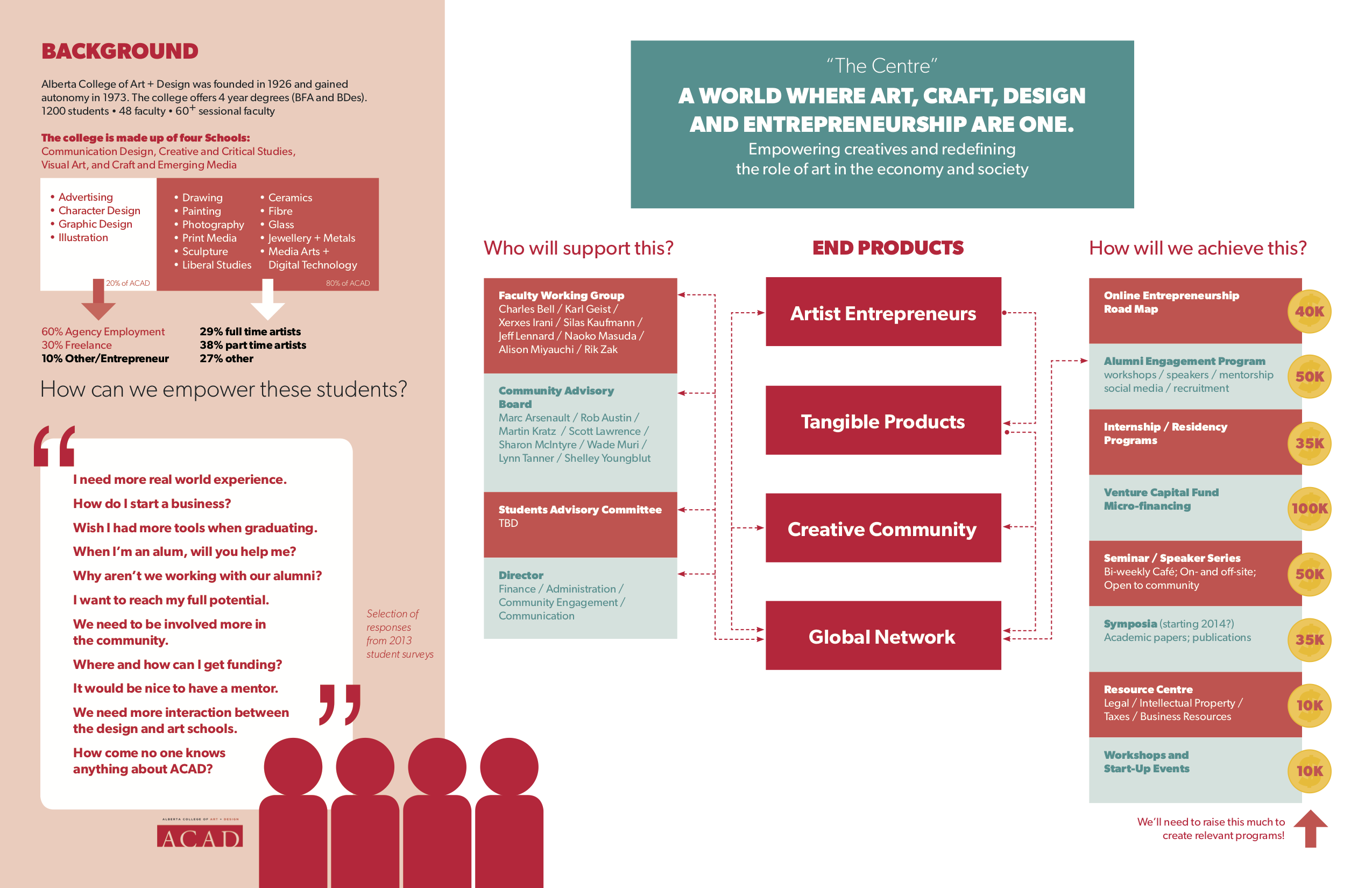 The Centre for Creativity and Entrepreneurship (Alberta College of Art and Design) and the Arts and Leadership Seminar at the Harvard University Centre for Public Leadership
In 2012, the president of the Alberta College of Art and Design (ACAD) recruited me to lead the design process for a Centre for Creativity and Entrepreneurship. He listened to the work I had done while at Harvard in the area of arts and leadership and recognized the connections and interplay between art, design and entrepreneurship. Working with students and faculty, we created a cross-campus, interdisciplinary strategy that resulted in a concrete action plan for the centre: a world where art, craft and design and entrepreneurship are one. An economic downturn and change in government put the plan on hold but the value of such an enterprise is clear.
This story takes place in Calgary, Alberta in 2012 but begins at Harvard University in 2008. Following an intense and challenging year creating and launching Alberta's first cultural policy, and having reached the milestone age of 50, I needed a change. I recall the moment the universe responded to that appeal.
It was in May and we were on the tail end of a month long trip through Argentina, in a modernish café in El Calafate, a chance moment waiting for our colleagues to finish some last minute shopping. Carolyn Goldstein, a fellow member of the International Women's Forum (IWF) program, and I had shared a room for the last weeks and feeling a deep comfort with this friend and mentor, I shared with her one regret.
"I'd like to go back to school" I blurted. Though I had three university parchments to my name, they were never earned. I was in the photos but never present as only one who has suffered from addiction can understand. I dreamed of what it would be like to be present and healthy in a learning environment, without all the shenanigans. She paused, as she always did, and in her oracle way, proclaimed: "You're going to Harvard."
Upon our return to our respective home towns, we had two weeks to get the applications in for a Fellowship at the Weatherhead Centre for International Affairs, where each year a spot was held for a member of the International Women's Forum, provided she met the criteria. My dual interests were in the nexus between arts and leadership and cultural diplomacy. One year led to four in large part to meeting a Humanities educator who was changing the world through the arts, her lived experience to date captured in her seminal book The Work of Art in the World.
Dr. Doris Sommer is a full Professor at Harvard and Director of the Cultural Agents program, a platform for academics, artists, community leaders and active citizens to combine arts and research in the service of civic development. She encouraged us all to think like an artist, to learn from exemplary creative agents and share lessons that challenge stale paradigms with artful alternatives. It was a magical time, reading the philosophical texts of Schiller, Kant, Habermas and Freire and learning from practitioners who were applying their theories and changing the world through art. Compelling examples of such initiatives can be found on this website on the xyz page.
I had the privilege of designing and leading a four session seminar at the Harvard's Kennedy School, Centre for Public Leadership. Arts and Leadership was oversubscribed and students from diverse schools across the campus engaged with theatre, music, song and movement to embody the philosophical underpinnings of arts as a transformative device. They completed the seminar by identifying a campus challenge and designing their own artistic intervention to address it. All reported that much more should be done to teach leaders how to engage the arts for transformation and change.
On my return, I was introduced to Daniel Doz, the president of the Alberta College of Art and Design (ACAD). We immediately agreed on how the school's art and design students would benefit from real world entrepreneurial tools. Conversely, the city's emerging entrepreneurship and start-up sector could leverage the school's talent to amplify their innovation and incubator processes. We spent one year working across the college's silos ranging from photography to ceramics, painting to jewelry and metals, media arts to visual communications. We engaged four classes in focus groups and enlisted students to Dragon Den style pitch competitions. The presentations by teams with the ACAD students were the most creative and scored the highest.
Student surveys and focus groups revealed a deep need for hands on experience, apprenticeships, and tools for building a career as an artist post-graduation. We worked with the industry to obtain feedback and with the emerging start-up sector to identify their needs. We achieved consensus on a cross-disciplinary approach and support from the college executive and developed a budget. Regrettably, a downfall in the economy and a change in government bureaucracy resulted in shelving the concept of the Centre for an indeterminate length of time.