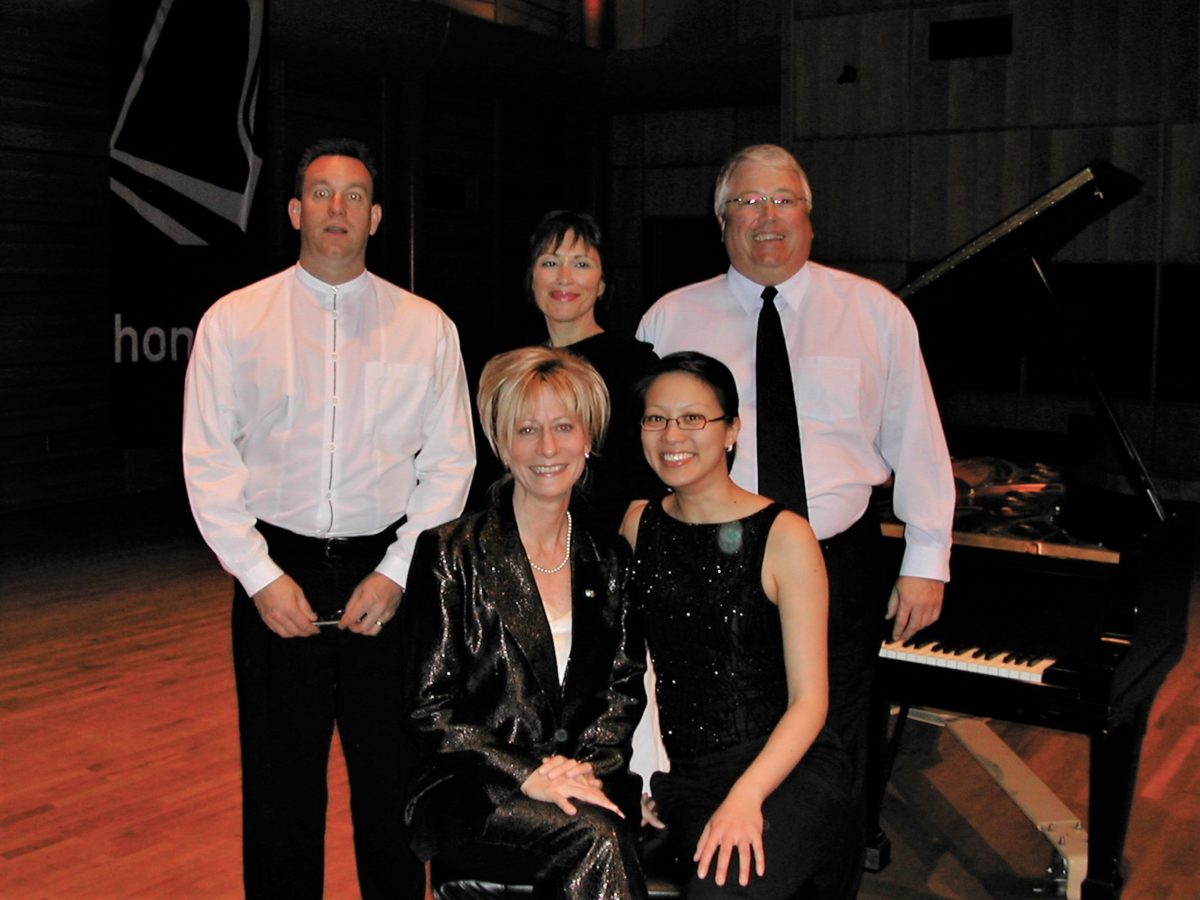 It wasn't easy going back to piano lessons at the age of 40, having abandoned the practice for over twenty years, dark years blurred by, well, that's a story for another day. Looking back, the seed to return was planted in Banff, Alberta at the Honens International Piano Competition's Jury Recital. A chance encounter there led to an invitation to join the Honens board, and collaborate with Jenny Belzberg to co-found an Amateur competition for local accomplished pianists, changing their lives and along the way raising friends and awareness. Since its inception, this unique and innovative event has raised over half a million dollars for the organization.
Back to the recital at the Banff Centre…the effusive French pianist Jean-Efflam Bavouzet appeared on the stage sporting a white jacket, his personality, charm and charisma outsizing his diminutive physique, effacing the fact that he was at least a foot shorter than the rest of other jurors. They were putting on a concert for Honens patrons, followed by a reception, where the story begins. Chatting with my plus-one Beth, Jean-Efflam stepped right into our space with a plate of hors-d'oeuvres and three forks. Magic.
We wound up going for lunch later that week, talked about our lives, our triumphs and hardships, the journey of a concert pianist, our mutual love of the piano. It was then I decided to pick up where I had left off and take lessons and the Grade 8 level exam of the Royal Conservatory of Music.
I was practising law at the time and it seemed at every turn, someone was playing the piano and playing it well. It occurred to me that some of them might be inclined to put on a concert and raise money, the cause to be determined. I ran this by Jenny Belzberg, my partner in crime on the Board of the Honens International Piano Competition. She looked like she had struck gold. "I've been telling Honens to put on an amateur competition for years, like the Van Clyburn! Let's do it!"
So here's the deal. As an amateur but accomplished pianist, your mission is to perform a twenty minute recital of classical music, off book, level Grade 9 or higher. This will be played and recorded on a 9-foot Steinway, in a concert hall, in front of an audience of 350 and a jury. And for the honour of doing this, you also have to raise $20,000 from your friends, family, co-workers, your network. It's an ingenious way to raise countless individual donations from a new pool of prospective patrons every competition.
Since 2003, Honens has hosted 9 such competitions with over 40 pianists participating. Each has said that it changed their lives. I was a "substitute" for the inaugural ProAm and competed in the second. That year, I was grateful to a friend and mentor, Jim Stanford who offered to match all donations up to $10,000. Four of us practiced for months, though it was clear from the outset that the youngest competitor, Joyi Wei, would win. She was playing on a keyboard which seemed beneath her talent, so I gave her a key to my place for access to my Kawai baby grand whenever she felt the need. In the meantime, I was traveling and adhering to my daily practice schedule which necessitated securing pianos in cities across Canada and around the world.
I learned how to access churches, green rooms in concert halls, and hotel banquet rooms (before or after the catering staff clocked in or out). At the time, thanks to a relationship with Lachlin McKinnon, the winner of the first ProAm, when working in Ottawa, I was granted access to the Governor General's residence, Rideau Hall, to practice on Glen Gould's piano. I played and practiced in Canadian Consulates in Washington and Madrid and in the lobbies of the Moscow Metropol and hotels in Ecuador, Argentina, Morocco and Hong Kong. I cherish each of those memories and celebrate the discipline and commitment it took to prepare for the ProAm and the exam.
As the competition approached, anxiety levels rose, to the point of not being able to eat the day before the competition. My Mom had come to town for the event and that just added to the nerves. I tried to practice but it was easier to fuss about my wardrobe and hair. Finally, I settled on a stunning, shimmering brown faux alligator skin pant suit, with matching suede stilettos. I was told later that the audience's applause and collective gasp when I walked onto the stage was in fear that I would trip and break my neck.
I learned a few things about performing that day. About three quarters of the way through Mozart's Fantasia in D minor, I said to myself "Wow, this is going quite well." That momentary flight of ego and breach of concentration caused a memory lapse and three repeats that were not in the score. Somehow I got it back and finished the piece and the rest of my repertoire. I had done it. Laughlin happened to be on the jury and I won – for best shoes!
The ProAm has evolved considerably since its humble beginnings, garnering media attention, fan clubs for each of the competitors, complete with T-Shirts, mentors, a wardrobe donated by local high end boutiques and a suite of prizes including a residency at the Banff Centre. Every year, more money is raised and more Calgarians and Canadians are aware of the cultural gem that is Honens, now ranking in the top ten piano competitions in the world.